Meet Julie Bess: A WDC Employee with Over a Decade Experience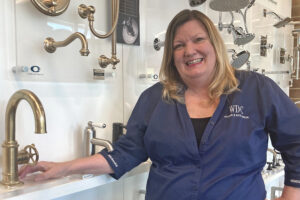 WDC Kitchen & Bath Center has been around for 40 years, and in that time, we have had many wonderful and long-time employees. We decided it would be a good idea to introduce a few of them to you.
Our first employee spotlight is a kind, dedicated and super knowledgeable part of our sales staff…Ms. Julie Bess.  Julie has worked in the plumbing sales industry since 1984, so for the last 37 years, where she began her career with one of our competitors. For the last 13 years, she's worked at our Moorpark Showroom in the Plumbing Fixture Department.
"My favorite part of my job is when I work with a customer to find exactly what they want, and also what they may need. I love to help them choose the perfect fixture to pull their bathroom together, and go beyond their expectations." She says, "Sometimes working in sales can be challenging, but I feel really proud when a customer comes in frustrated or confused, and walks out with a smile on their face. That makes my day."
Julie considers herself the customers' partner in their bathroom remodel.
"I can help them from the seed of their vision, to the final tile on the shower wall. I tell my customers to start with the faucet and finish they like, and it will all flow from there. But it's a mix of everything – the customer will feel when their bathroom is coming together."
Since Julie has worked at WDC for a long time, (over a decade) she feels like our brands are her babies, each having a unique personality, but she does play favorites sometimes. "I love, love, love, Waterstone faucets made in the USA." She says, "It's your faucet for life! If you move you must take it with you." As far as trends go, Julie is really keen on one,  "The bidet toilet just makes sense, cleaning with water rather than a dry piece of paper is much more sanitary, and in today's world, that's just smart."
Julie even offered up some tips on remodeling your bathroom:  "1) First thing is a good contractor, one that you can talk to easily. Communication is key. 2) Make a list of everything you think you'll need, and then some! 3) Create a look-book of all the styles, fixtures, finishes, colors, and bathrooms you really like. That creates a really good launch pad for your remodel.  4) Order early! Allow plenty of time for delivery and specialty orders, especially now, due to Covid. 5) And come see me, Julie Bess, at the WDC Moorpark Showroom. Together we can make your dream bathroom come true."

Customers can find Julie at:
WDC Moorpark Showroom
14349 White Sage Rd, Moorpark, CA 93021
Call 805-222-1380 or

[email protected]


Julie's days off are Sunday and Monday.