"Nafiz Hafiz is a good guy. He was professional and knowledgeable…Great job." – Shawn from Camarillo, October 2021.
WDC Kitchen & Bath Center has been around for 40 years, and in that time, we have had many wonderful and long-time employees. We decided it would be a good idea to introduce a few of them to you.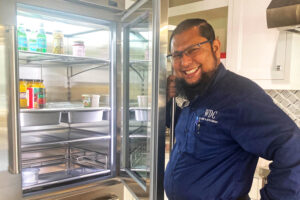 This month's employee spotlight is Nafiz Hafiz, a friendly and very
knowledgeable sales associate who works at our Moorpark Showroom.  A recent Yelp reviewer wrote…"Nafiz Hafiz is a good guy. He was professional and knowledgeable…Great job." Shawn from Camarillo, October 2021. We couldn't agree more, and that's why Nafiz has been with us since 2000. He's originally from Bangladesh,  he moved to the United States as a young man, and began working in the kitchen appliance industry soon after he arrived.  For the last 21 years he's worked for WDC, starting at our Oxnard location, then he transferred to our Agoura Hills Showroom for 10 years, then finally, five years ago, he moved to our Moorpark Store. Nafiz works in our  kitchen appliances department, selling all the top brands, and due to his years of experience, he knows his stuff.  Nafiz says, "The best part of my job is seeing satisfied customers, and of course repeat customers. Both tell us we're doing something right, and that puts a smile on my face."
Nafiz's friendly personality has undoubtedly helped him with his customers over the years. He loves problem solving, and assisting his buyers in finding just the right appliances for their remodels.
"I'm good at asking questions and getting to the bottom of what would work for their lifestyles, as well as their budget."
"Sometimes they don't know, or maybe they are shy about asking for a particular product, so I ask qualifying or discovery questions to get the answers that will help me assist them in choosing the perfect appliances that will make them happy for years to come, which is my ultimate goal."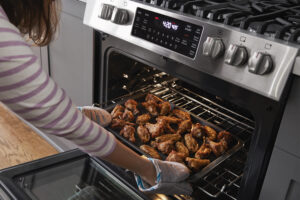 Being in the kitchen appliance industry for over three decades, Nafiz has seen a lot of kitchen trends come and go, but one trend he thinks will be with us for a while is the air fryer. "The ovens with the air fryer capability are here to stay. Everyone wants to eat healthier and the air fryers allow you do just that. What I love about it is that it provides that great crunch everyone wants, without all the grease. What's not to love? We sell some great ovens that have the air fryers built-in, such as LG, Samsung, Electrolux, and Frigidaire. A lot of customers are looking for the air fryers, so they're a big seller."
Since Nafiz has been in the business for so long, he has some tips for customers looking to remodel their kitchen. "I would recommend a gas range cooktop, and an electric wall oven, which could be single or double. That way you combine the best of both worlds. You'll be cooking with the top performance of a gas cooktop, and you'll absolutely have the best baking with an electric oven. Both are ergonomic – not having to bend over with a wall oven makes it so much easier, and the range top provides more shelf space in the kitchen, which is always welcome in any home."

Customers can find Nafiz at:
WDC Moorpark Showroom
14349 White Sage Rd
Moorpark, CA 93021
Call 805-222-1380 or [email protected]
Nafiz's days off are Fridays and Sundays.